Newcastle pair rescue six people after their boat sinks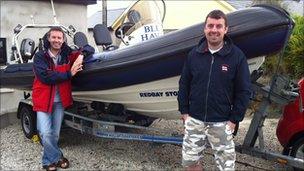 A Newcastle RNLI lifeboat volunteer lifeboat crewmember and his brother have rescued two children and four adults after their boat sank off the Donegal coast.
Samuel and Richard Burgess were fishing at about 1630 BST on Tuesday when they heard a call for assistance.
It alerted them to an 18ft cruiser sinking off Port na Blath in Sheephaven Bay.
The brothers rescued two children and four adults from the water.
The children were taken to hospital after the group was met by representatives from the Downings coastguard.
"I didn't expect to be using my RNLI training away from Newcastle but I am delighted we were close by and were able to help these people, " Richard Burgess said.
"Conditions on the day were good and the group were about half a mile out from the shore but the area is very rocky and they would have been unable to make it to shore on their own.
"It could have been a very different ending to the day and we are just delighted that everyone is safe," he added.