Northern Ireland riots: Robinson and McGuinness meeting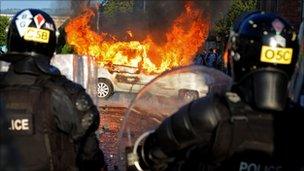 Northern Ireland's first and deputy first ministers are having a meeting at Stormont to discuss recent rioting.
There was trouble in nationalist areas of Belfast on Monday night and again on Tuesday night as well as in parts of the north west, Armagh and Ballymena.
There was also violence in loyalist areas of Ballyclare, Carrickfergus and Newtownabbey at the weekend.
Peter Robinson and Martin McGuinness said the rioters should think of the consequences of their actions.
Mr Robinson said: "As a government we are working together to ensure that Northern Ireland prospers and grows in strength.
"It is saddening to see Ulster in the international news for all the wrong reasons.
"Those involved in Tuesday night's violence and rioting provide nothing to society. Those manipulating the violence will not win."
Mr McGuinness said: "I visited Ardoyne on Monday and met with local people, community and church leaders.
"They made it very clear to me that they did not want to see any violence in their community over the Twelfth parade.
"It is disappointing that a small number of people chose to ignore their demand and instead went about attacking the police and damaging the local community."