Bangor Coastguard decision due to be announced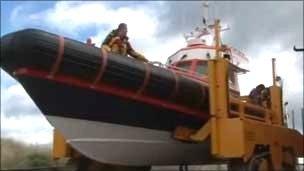 The future of the coastguard centre at Bangor, County Down, should be known later when a review of the entire UK service is expected to be made public.
The government had intended to close more than half of the UK's 18 coastguard centres.
It argued that new technology allowed it to modernise the service safely.
Plans to close the North Down based facility have been opposed by all the main political parties in Northern Ireland.
The issue has been raised with the prime minister and the taoiseach .
Campaigners warned that the original plans could put lives at risk and ministers agreed to reconsider.
Diana Gadd, one of those campaigners, said it was vital that the service remained "fully operational".
"There was talk about downgrading it to a 12-hour station, a daylight only station," she said.
"Statistics can indicate that incidents do occur between a certain time period, but we all know that an incident can happen at any time.
"If the station were to close, crucial local knowledge would be lost, so precious time could be lost at the start of any incident."
There has been a period of consultation and the Shipping Minister Mike Penning has visited Bangor where he was lobbied by the first and deputy first minister and the MP for North Down, Lady Sylvia Hermon.
The review is expected to be made public later on Thursday.
The coastguard station in Bangor is responsible for initiating land air and sea searches, including inland waters, across the whole of Northern Ireland.
Related Internet Links
The BBC is not responsible for the content of external sites.