Craigavon nurse guilty of misconduct after child dies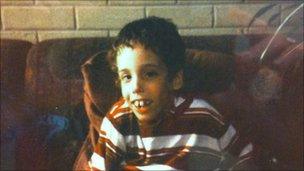 The mother of a disabled child who died in hospital said she is relieved that three charges of misconduct have been upheld against a nurse involved in her son's care.
Conor Mitchell died at Craigavon Area Hospital in May 2003.
The Nursing and Midwife Council ruled that Ruth Ballas had failed to correctly diagnose and record his condition.
She mistakenly diagnosed the boy's seizures as spasms.
Conor had cerebral palsy and was brought to the hospital by his mother, Joanna Mitchell. She thought he had a viral infection.
Conor's case is part of an ongoing hyponaetremia inquiry but in 2008 his mother made a separate complaint about the conduct of Ruth Ballas.
The Southern Health Trust has offered its condolences to Conor's family and promised to try to learn from the case.
Speaking on Good Morning Ulster, Ms Mitchell said that after eight years of pain it was good to have her views recognised.
"This is the first time anyone has listened to us clearly and it's such a relief after all these years to have a professional regulatory body acknowledge exactly what we feel happened eight years ago," she said.
"It's been horrendous. Each time we have tried to get somewhere with Craigavon Area Hospital and the trust it's been brick wall after brick wall.
"We asked for an apology for year after year in letters to the then chief executive and all the replies said that Conor got the best treatment.
"I was offered money a few years ago which I declined. I wanted the truth, an acknowledgement of what they had done. That was never given.
"The money was obviously never accepted. Now I hope to get an apology from Craigavon Area Hospital, not that it will ever change anything for Conor."
The Southern Health Trust said in a statement it would "like to offer heartfelt condolences to the Mitchell family at this difficult time".
"Whilst the trust cannot comment on employees past or present, we would wish to provide assurances that since the inception of the new trust in 2007 a wide range of measures have been introduced to strengthen patient monitoring," it said.
"However, the trust will carefully consider the outcome or recommendations following this case to determine if any lessons can be learned or if practice can be further improved."