Crumlin Star football team injured in Twelth attack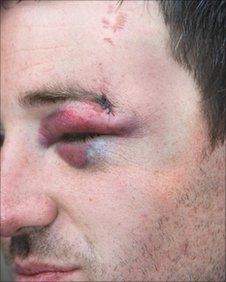 Members of a north Belfast football team had to be treated in hospital for injuries including stab wounds after they were attacked on the Twelfth.
The men, who play for Crumlin Star, were on their way home after a day at Dundalk Races when they were targeted at Alliance Avenue.
Up to eight were injured. One suffered a broken leg and fractured foot.
Police confirmed they are investigating the incident which the men believe was sectarian.
Details of the attack were reported in the Irish News on Thursday.
Crumlin Star member Ciaran Reid, said the team had travelled to Dundalk on Tuesday "to get away from the trouble in Belfast".
He said they were aware of disturbances on the Crumlin Road and as a result their bus driver dropped them off on Alliance Avenue.
"We were walking down in twos and threes - the next thing 30-40 guys with golf clubs, bottles and sticks came running straight at us," he said.
"They caught up with a couple of us and got us on the ground".
Mr Reid said they were not wearing football tops but shirts and ties. However he said the fact that they were walking towards Ardoyne identified them as Catholic.
He suffered a broken leg and fractured foot while another player Anthony Braniff sustained facial injuries and received stitches above his eye.
He said eight players were injured with a number being treated in hospital.
A police spokesman confirmed the attack happened around 2030BST and a motive "had yet to be established".