Apprentice Jim Eastwood into Lord Sugar's final four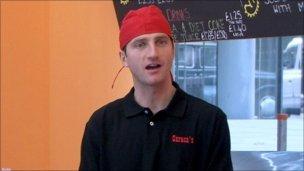 Northern Ireland's contender has negotiated a Mexican stand-off to make it through to the final of the BBC's Apprentice series.
Cookstown man, Jim Eastwood, is one of the four remaining contestants who will battle it out for a £250,000 investment from Lord Sugar on Sunday night.
Despite being a favourite to take home the Apprentice crown, Jim's dreams nearly came unstuck on Wednesday's show.
The 32-year-old narrowly missed being fired by Lord Sugar when he named a Mexican restaurant after the capital of Venezuela.
His overall leadership of a fast food challenge was criticised, particularly when he named the eatery "Caracas".
Jim said it was a play on the Mexican word "maracas", but Lord Sugar was not impressed.
The final four - Jim, Susan Ma, Helen Milligan and Tom Pellereau - will face a grilling from the Lord's trusted allies on Sunday.
Interviewers Claude Littner, Mike Soutar, Matthew Riley and Margaret Mountford join the selection process to tear the quartet's business proposals apart.
Lord Sugar said: "Once my trusted colleagues get them under the microscope I have no doubt that flaws will be uncovered, and we will see who truly warrants my investment."