Cloyne report: Papal Nuncio and Eammon Gilmore in talks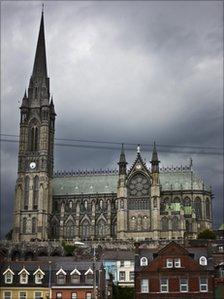 The Irish foreign minister is meeting the Pope's ambassador to Ireland.
Eamonn Gilmore requested the meeting following the publication of the damning Cloyne report into the Catholic Church's attitude towards child protection guidelines.
Papal Nuncio Giuseppe Leanza arrived at Department of Foreign Affairs at 1230 BST.
The Irish prime minister has called for the Vatican to reiterate its view that civil law should always be followed.
The report found that the Cloyne diocese in County Cork failed to report all complaints of abuse to police.
It investigated how allegations of abuse against 19 priests in the diocese were dealt with between 1996 and 2009.
The report was critical of Bishop John Magee, who falsely told the Irish government he was reporting all allegations to the relevant authorities.
Both the Catholic Church and Bishop Magee have apologised.
The head of the Catholic Church in Ireland, Cardinal Sean Brady, said it was "deplorable and totally unacceptable".