University tuition fees 'will not increase' - ministers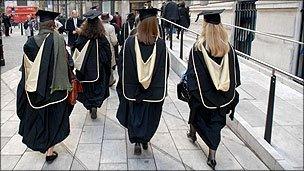 There will be no large increases in university tuition fees for students starting courses in 2012, the first and deputy first ministers have confirmed.
They said the fees would only rise in line with inflation.
Martin McGuinness and Peter Robinson said they had yet to work out how to take money from other departments to pay for the £40m shortfall.
They said they would look for the mechanism which caused least pain to other government departments.
The ministers said they should have worked out a method of finding more money and protecting the universities by the time of the next executive meeting in September.
"We believe as an executive that we can deal with the implications of that vis-a-vis the funding," Mr McGuinness said.
Last week Employment and Learning Minister Stephen Farry tabled a paper for a Northern Ireland Executive meeting suggesting a number of options on fees, but it was not discussed.
Capping the fees at £3,200 a year plus inflation was considered the most likely option to be adopted.