Man charged with trespassing Bishop Hegarty's home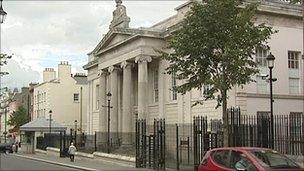 A 33-year-old man charged with trespassing in the Londonderry home of Bishop Seamus Hegarty has been returned for trail.
Declan Devine, from Bloomfield Park, Derry, is charged with stealing items from the home on 27 August 2010.
He was granted bail on Thursday to appear at Londonderry Crown Court for trial on 9 September.
Mr Devine must wear an electronic tag, observe a 12-hour daily curfew and refrain from consuming alcohol.
The items taken from Bishop Hegarty's home on the Buncrana Road include a pair of cufflinks, two bottles of spirits and a gold ring.
A number of gold coins and a pouch containing Rosary beads were also stolen.
Mr Devine is further charged with stealing an X-box 360 from a house at Hampstead Park, Derry, on 2 April 2011.