Widow allegedly conned into 'lending' £7k to Nigerian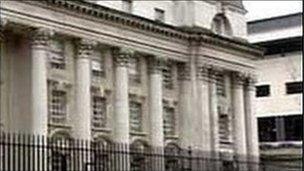 An alleged fraudster conned a newly widowed woman into lending him more than £7,000 after they met in a Belfast bar, the High Court heard on Thursday.
Prosecutors claimed London-based Lawrence Nwachukwu said the money was for a deposit on a house.
The 36-year-old married Nigerian national was said to have kept his true identity hidden.
He denies the allegations, and claims she paid for his flights and hotel accommodation during his visits.
A judge was told that police investigating the case also suspect he obtained six new mobile phone contracts and debit cards in the name of a friend and neighbour.
Mr Nwachukwu, of no fixed abode, has been charged with multiple counts of fraud by false representation, and possessing articles for use in fraud.
He was granted bail to live at an agreed address in Belfast, but ordered not to leave Northern Ireland and banned from contacting either alleged victim.
The court heard he met the woman at a bar in March, telling her he was an American living in England.
He claimed to be in Belfast on business and developed a friendship with her during the course of a number of visits.
Crown counsel Kate McKay said the woman gave him £4,000 in cash and then a further £3,200.
She agreed after the accused provided her with a driving licence number and utility bills for an address in London.
Mrs McKay claimed the woman had been "duped" while in a vulnerable state following the recent death of her husband.
"Perhaps she hadn't looked into it with as much care as she should have," the barrister said.
The court was told the woman did not hear from Mr Nwachukwu again after handing over the second bundle of cash.
A cheque he had written her was said to be for an account which was £25,000 overdrawn.
The accused was tracked down after inquiries were made at the Ramada Encore Hotel where the woman had driven him.
CCTV footage was also obtained from Belfast City Airport for the dates of his flights.
He was arrested in June as he travelled from Belfast to Gatwick in London.
Mrs McKay told the court Mr Nwachukwu admitted maintaining contact with the woman after they met in a bar.
Richard McConkey challenged the prosecution's assessment of the woman.
"To describe this lady as vulnerable, the Crown are only saying that because her partner had died," he said.
Mr McConkey told the court his client had lived in the UK for five years.
"He makes the case that he struck up a friendship with this lady when in Northern Ireland," he added.
"He kept up a relationship and any use of a false name was an attempt to hide from his wife the fact he was having this affair."
The judge said the behaviour alleged by the Crown involved fraud on a "not insignificant scale".
Describing the application as a "borderline case", Mr Justice Treacy ruled that Mr Nwachukwu should be granted bail.
He also ordered the accused to surrender his passport and any other photographic identification