Three men are charged with involvement in twelfth riots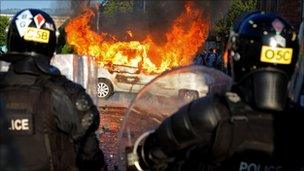 Two men have appeared in court following riots in Belfast on 12 July.
The men appeared at Belfast Magistrates' Court on Thursday.
Kyle Patton, 22, of Lincoln Court, Londonderry, was accused of riotous behaviour, possessing an offensive weapon and resisting police.
He was granted bail and will appear again on 25 August.
Eighteen-year-old Paul Turner, of no fixed abode, also appeared on a charge of riotous behaviour in the Brompton Park area of Belfast.
He was given bail and will return to court on 18 August.
A 46-year-old man charged with rioting in Ardoyne is due to appear before Laganside Court on Friday.