Armagh Lions to fund Lisanally music therapy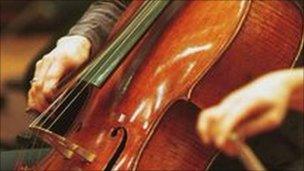 An Armagh charity has stepped in to provide vital music therapy for disabled children, after funding was withdrawn.
Armagh Lions Club is determined to raise the money to fund therapy at Lisanally Special School for next year.
The school is one of 18 special schools across Northern Ireland where funding has been withdrawn.
Lions Club president Tanya Fowles said their target was £4,000 to ensure music therapy is in place for September.
"Lisanally pupils and staff form an important part of our community and we are very proud to be associated with them."
Raising the money is "a mammoth task in austere times" she said, but the group is confident that with support from business and the community, it would be possible.
Fiona Davidson, executive director of NI Music Therapy Trust said, "We have been involved with Lisanally Special School for over eight years and collectively we worked with approximately 400 children across Northern Ireland every year.
"Music therapy is an invaluable support to children particularly with profound multiple learning difficulties who are the most vulnerable and socially isolated, including those suffering from severe autism.
"Many children with sensory disabilities such as sight, hearing and speech can be reached as music therapy does not rely on words. Music becomes the means of communication between the therapist and the child. Through this we can maximise their potential."
Armagh Lions Club will be involved in a number of fund-raising efforts over the summer including a 'bag pack' in Sainsburys on 11 August and a barbecue on 19 August at Armagh Rugby Club.
This will include an evening of "Poems, Prose and Prattle", courtesy of Armagh Theatre Group.