Nuala O'Loan calls for new probe into clerical abuse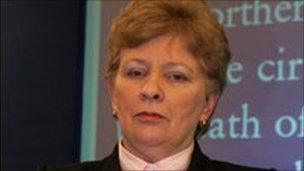 The Catholic Church must have an independent audit of every Irish diocese to prove children are no longer at risk, the former Police Ombudsman Baroness Nuala O'Loan has said.
It follows last week's Cloyne Report into clerical child abuse.
It found abuse allegations had not been properly handled by the former bishop John Magee, who is from Newry.
Archbishop Dermot Clifford's letter of apology was read out at Masses in Cloyne on Sunday.
Baroness O'Loan said children came before the cost of any investigation.
"I think what we need is an independent investigation system which would operate across the island of Ireland which would be funded by the bishops.
"It would be expensive but it would not be nearly as expensive as having children being abused."
The letter from Archbishop Dermot Clifford condemns the sexual abuse of children by priests.
It highlights "the consistent failure" to report allegations of abuse to gardai and the health authorities.
The decision to address Massgoers followed Wednesday's publication of the Cloyne Report.
The document revealed that the Vatican backed the diocese in ignoring the Irish Church's own guidelines on child protection.
Archbishop Clifford's letter tells the people Cloyne, that they are entitled to expect that all abuse complaints will be handled according to official Church guidelines and he is truly sorry that this had not always been the case.