Jim Eastwood won't be Lord Sugar's next Apprentice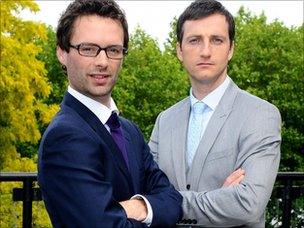 Northern Ireland's Jim Eastwood has missed out on becoming Lord Alan Sugar's next Apprentice.
The 32-year-old sales and marketing manager from Cookstown made it to the final week of the TV competition.
But Jim's dreams of walking away with a £250,000 investment from Lord Sugar were dashed when the tycoon opted to go into business with inventor Tom Pellereau instead.
Although he lost out on the coveted top prize, Jim did not leave the boardroom empty handed.
He was rewarded with a certificate for being the "The World's Greatest Salesperson" by the business mogul.
After pitching his team's biscuit to Asda supermarket in week nine, Jim won the biggest sales order in Apprentice history of £1.6m - and this was acknowledged by Lord Sugar.
"He said I was the greatest salesperson he's ever had and he gave me a certificate for 'The World's Greatest Salesperson'," said Jim.
"He doesn't give away compliments easily, so that was a major accolade.
"It's got pride of place in my house.
"It's a busy time in the Eastwood household, my wife's heavily pregnant and I'm in the middle of The Apprentice frenzy, so it's a fantastic time and it's been a remarkably positive experience."
Dubbed "Jedi Jim" by followers of the show, the salesman was famed for using his silver tongue - not only to land excellent business deals - but also to talk his way out of boardroom showdowns with Lord Sugar.
Jedi knights first appeared in the blockbuster film Star Wars, harnessing "the force" as a mind control technique.
"You know what, it's a compliment," said Jim.
"Star Wars is one of the biggest films in the world and Jedis are synonymous with having special powers to be able to influence people.
"In business that's one of the most important skills, influencing people, and I couldn't have got a higher accolade for that. So I'm delighted actually."
The final four - Jim, Susan Ma, Helen Milligan and Tom Pellereau - faced a grilling from the Lord Sugar's trusted allies on Sunday.
Interviewers Claude Littner, Mike Soutar, Matthew Riley and Margaret Mountford joined the selection process to tear the quartet's business proposals apart.
Viewers then watched Jim present his plan for investment in an "e-learning service" for schools to Lord Sugar.
Susan Ma, aimed to further her career by pitching an idea for her organic skincare company, while Helen put forward a plan for a national concierge service.
But it was Tom's plan to sell office furniture that prevents back pain, which caught the imagination of TV's 'Mr Grumpy'.
Despite being on the losing side a record eight times during the series, Lord Sugar said he had a "gut feeling" about investing in Tom.
"I'm a product man in my heart. I've made products and sold them to retailers, that's in my blood and that's what Tom is all about," Lord Sugar added.