Michaela McAreavey murder: accused pair to face trial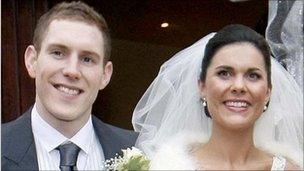 A court has ruled that there is sufficient evidence to try two men accused of murdering Michaela McAreavey on her honeymoon in Mauritius.
Avinash Treebhowoon and Sandip Mooneea will be tried before a criminal court for the murder of Mrs McAreavey in a luxury hotel on the island in January.
Police believe the newly-wed was strangled after she stumbled in on a burglary upon returning to her chalet.
The two suspects could be jailed for 60 years if found guilty.
The men are among five suspects questioned about the murder of Mrs McAreavey, the daughter of Tyrone Gaelic football manager, Mickey Harte.
Her husband, John McAreavey, will be questioned about the circumstances surrounding his wife's murder.
He has agreed to travel to the Indian Ocean island at the request of lawyers acting for the men accused of killing his bride. The defence team have prepared a list of questions they intend to ask him.
Mr McAreavey, an accountant from County Down, found his wife dead in their hotel suite on 10 January.