Queen accepts painting of her Irish state visit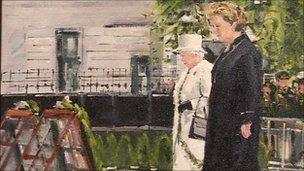 The Queen has agreed to accept a painting of her state visit to Ireland from County Clare artist Michael Hanrahan.
Mr Hanrahan, who lives in Lahinch and works in a studio at the Courthouse Gallery in Ennistymon, was the only artist granted media accreditation to cover the royal visit.
The painter wrote to Buckingham Palace to offer the gift.
He then received a letter on official palace notepaper signed by Edward Young, the deputy private secretary to the Queen, who thanked the artist for his "most kind offer".
"I can confirm that Her Majesty would be pleased to receive this gift," it read.
"I had done one painting of the Queen bowing her head in the Garden of Remembrance and I thought that was very significant and the painting turned out well," said Mr Hanrahan.
"The following week I did a second one, a bigger one with President Mary McAleese and the Queen, and it is called 'The Queen and the President in the Garden of Remembrance' and I felt that was the one which should go to Buckingham Palace."
The Garden of Remembrance commemorates those who died in pursuit of Irish independence from Britain.
The wreath laying ceremony was an emotionally charged moment.
Fine art auctioneer Ian Whyte believes that Mr Hanrahan is now the second living Irish artist represented in the British royal collection, which is one of the world's most valuable.
He described the painting as "a moment of reconciliation".
"It's a moment of respect for each other's dead and a very, very important moment in the history of Ireland," he said.
"So for both the Queen and the president, it is probably a very special painting, but the Queen's going to own it."
Mr Hanrahan is planning to deliver the artwork in person.
"I suppose it is history being made, and with paintings - as distinct from a photograph - a painting lasts for maybe hundreds of years," he said.
"I think our children's children will look back on this, when the Queen won the hearts of thousands of Irish people, and I'm the painter and my painting goes and hangs in Buckingham Palace.
"I can't do any better than that."
Before it is taken to Buckingham Palace, the painting will remain on display until 22 July at Whyte's of Molesworth Street in Dublin.
Related Internet Links
The BBC is not responsible for the content of external sites.