Darren Clarke defies the odds to win the Open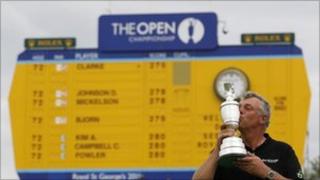 Just when it looked like the profile of Northern Ireland golf could not get any higher, along came Darren Clarke with his remarkable journey from tragedy to triumph.
At 42 years of age, he is old enough to be the father of all-conquering US Open winner Rory McIlroy, but Clarke's unexpected victory in the Open was arguably an even greater achievement.
And all this within 13 months of another Northern Ireland golfer, Graeme McDowell, winning the US Open in sensational style last year and climbing into the top tier of world golf.
Even he had to laugh when he received a message on Twitter saying "How does it feel to be the third best golfer in Northern Ireland?".
It says a lot about his modesty, and patriotism, that McDowell published the private message.
Darren Clarke is, perhaps, the most down to earth of them all.
After winning the Open, at his 20th attempt, he was asked what it would mean for his future golfing career?
Camping in the rain
"I've absolutely no idea," said Darren. "I think I will be hungover for a week."
True to his word, he then stayed up all night partying.
His celebrations were tinged with sadness, as his wife Heather died of breast cancer five years ago.
His victory at Royal St George's surprised the sporting world. Indeed, at one stage, he expected to be commentating for TV at this year's Open rather than playing in it.
He was 125-1 before the tournament, overweight and not among the fancied players.
But his manager Chubby Chandler never lost faith.
"You always play well when you're fat," he told him.
One of Clarke's biggest fans is Ollie McKee, 44, from Coleraine, who has watched him play 60 rounds and more than 4,000 shots at the Open during the past two decades.
He spent the weekend camping in the rain. But it was worth it to see his hero 'DC' eventually win a major.
He said: "Who writes these scripts?
"It's very, very special to see DC winning after all these years of heartache, and this all coming after the triumphs by Graeme and Rory.
Fairytale ending
"It doesn't get any better than this."
In spite of the age difference, Clarke, McIlroy (22) and McDowell (31) have a bond of friendship. They enjoy a drink together, they text each other and they are quick to pay to tribute to their respective families for their support.
Check the photographic files, and you will see pictures of them all hugging their parents after their major successes. They do not mind the tag of mummies' boys.
They also do not mind each other winning.
When McIlroy won the US Open last month, Graeme McDowell sent him a framed picture of them side-by-side. Now that Darren Clarke has joined the 'Northern Ireland Major Club', that particular picture will need an extension.
What they also have in common is a desire to see the Open championship come to Northern Ireland. There are two world-class courses - Royal Portrush and Royal County Down in Newcastle.
The problem is that neither town has the road infrastructure, the hotels and the green-field space beside the course to accommodate a major golf tournament.
That particular Northern Ireland golf story is unlikely to have a fairytale ending.
You can follow Mark Simpson on Twitter at @BBCMark Simpson.