Former Indian cricketer is accused of child abuse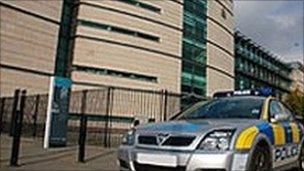 A former Indian cricketer is to stand trial accused of molesting a 13-year-old boy in Belfast more than 30 years ago, a judge ruled on Monday.
Udy Joshi faces charges including indecently assaulting the son of a cricket club member during a period when he played in Northern Ireland.
The 66-year-old, who represented Sussex during his career, now lives in the United States.
He was arrested after returning to Belfast for a cricket reunion dinner.
Mr Joshi declined to say anything in response to the allegations as he appeared before Belfast Magistrates' Court for committal proceedings.
He is accused of carrying out the assaults during July and August 1979 when he was also responsible for coaching duties.
The court was told a complaint was first made to police in the late 1990s.
Although Mr Joshi was believed to be living in an Indian village at that time, police were not authorised to go and look for him.
Mr Joshi, with an address at Cole Mill Drive, Charlotte, North Carolina, was returned for Crown Court trial on a date to be fixed.
However, District Judge Fiona Bagnall refused a defence request that he should be allowed to travel to India for dental work.
Barrister Luke Curran argued that the treatment would cost up to $20,000 (£12,500) in the US, but closer to $1,000 (£620) in his client's native country.
The court was told Mr Joshi has lost his job working in a bank in America and was suffering financially.
The detective opposed the plan despite acknowledging that the accused had kept in contact with police "religiously" while on bail.
He outlined the length of time it took to locate the defendant and expressed concerns that further difficulties could arise.
"He is facing charges of serious child sex abuse," the officer said.
"I have already had to phone the injured party (and tell him) that the court allowed him (Mr Joshi) to go and live in America.
"He is fully aware that it took us 11 years to deal with his complaint."
Refusing the Indian dental treatment application, Mrs Bagnall directed him to be released on the existing bail conditions.