Garda Owen Corrigan 'distressed' by IRA mole claims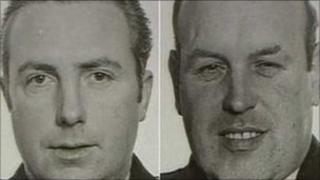 A retired Garda detective sergeant accused of being an IRA mole has told the Smithwick Tribunal he suffered grave distress as a result of the allegation.
The Dublin tribunal is investigating allegations of Garda collusion in the murder of two senior RUC officers.
Owen Corrigan was named as an IRA source by DUP MP Jeffrey Donaldson in the House of Commons in 2000.
Mr Corrigan said "nothing was further from his own ethos and beliefs".
He said it was "an absolute disgrace to avail of parliamentary privilege for his own ulterior motive".
Chief Superintendent Harry Breen and Superintendent Bob Buchanan were shot dead in an IRA ambush in south Armagh after meeting Irish police in Dundalk in March 1989.
Stakeknife
Earlier, a man alleged alleged to have been a British Army agent inside the IRA was urged to give evidence to the tribunal.
The Smithwick Tribunal was hearing an application for full legal representation for Freddie Scappaticci.
The Belfast man has always denied he is the agent codenamed Stakeknife.
Counsel for the tribunal said on Tuesday that although there was little or no reference to Mr Scappaticci yet, he would feature at a later stage, and if he had information he should make a statement.
The tribunal also heard a statement made by a now deceased Garda chief superintendent who was in charge of the Louth/Meath division where Owen Corrigan worked.
Richard Cotterell gave evidence in 2006 that Mr Corrigan was an exceptionally intelligent man, who figured in excellent cases and left the RUC happy without giving away too much information.
However, he said Mr Corrigan's fault was his reputation, which was by no means good.
Mr Cotterell said there was never any evidence, but there were persistent rumours that he was hungry for money.
When asked if he thought Mr Corrigan played a role in the border ambush of the two RUC men, he said "in no way could he see him lifting the phone to the IRA", and that was a unanimous view.