Butcher harnesses the power of Twitter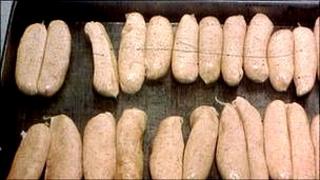 McCartney's Butchers in Moira have taken to Twitter and Facebook like a duck to orange sauce.
They might be a small independent retailer, but that doesn't mean they are not making a big impression in the world of social media.
Judith Millar is the tweeting butcher, and she's managed to pick up 390 followers.
It's a way of letting customers know about holiday opening hours, what's the special of the day and what's happening behind the scenes in the butcher's kitchen.
The reason a lot of businesses get social media so wrong is that they just stick adverts up, have lots of people in a company updating the account, and expect people to follow them or 'like' them.
But the secret to success is interaction.
Advice
On Facebook, customers have asked questions like, 'Are you open this Monday?' or ' I loved ur beef stroganoff when u did it with sirloin, could I order some?' and it really is Judith that replies, directly and personally to the potential customers.
She gives out advice on how to cook the meat, and makes sure people know what's on offer so it's worth their effort to come into the shop.
It's the perfect way for a small, independent retailer to promote themselves.
In a climate where competition is tough from big supermarkets and out of town shopping centres, it's a marketing decision which Judith says delivers real results.
"Gordon has been busy in the kitchen this morning making seafood chowder - hope there is some left to sell - man is it tasty!"
That was one recent tweet which Judith said was generating enquiries in the shop before they even managed to get the chowder out behind the counter.
For small retailers, that kind of speedy publicity is worth its weight in gammon.