Nama's impact on Northern Ireland property market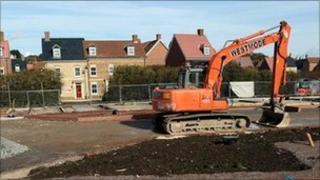 The Republic of Ireland's so-called bad bank, the National Asset Management Agency, has released details of properties it has repossessed.
But what does it tell us about the agency's impact north of the border?
Whenever the great property crash hit Ireland at the end of 2007, the Irish banks were stuck with billions of pounds of loans secured on property that was worth a lot less than those loans.
With so much bad debt the banks couldn't function, so the government created the National Asset Management Agency - Nama.
It relieved the banks of the burden, but passed it on to Irish taxpayers.
Now Nama manages billions of debt on a vast array of property connected to Irish banks in the Republic, Northern Ireland and further afield.
Previously Nama has said that it had taken over £3.5bn of property loans in Northern Ireland. On Thursday we got a first glimpse of that.
The agency has published a list of properties whose developers they have put into receivership. There are houses, sites, a factory and even a pub.
Every county in Northern Ireland now has Nama-controlled properties.
The vast-majority - 49 - are in County Down. That's down to one developer whose properties feature for sale in the latest Belfast Telegraph property section.
Huge slump
Two full pages are from this Nama stable - you can pick up a shell apartment for £40,000 or a seven bedroom home in Dromore, previously marketed for close to £1m, for a mere £400,000.
Why does this matter?
The property market in Northern Ireland is in a huge slump. Nama controls more property here than anyone else - by a mile.
The big worry for local politicians was that Nama might sell everything at a knock-down price.
That is not happening - because it is not in Nama's interests to do so.
But effectively Nama sets the level of the Northern Ireland property market so every move it makes is carefully watched and scrutinised.
Thursday's detail is just the tip of the iceberg as it includes only cases of enforcement action.
Many developers with multi-million pound loans are still trading away because Nama have judged that's the best chance they have of getting some money back at some stage.
So we have much, much more to learn about Nama and its ultimate impact on the value of not just these properties, but every home, office building, and piece of land in Northern Ireland.