Thrones on the shore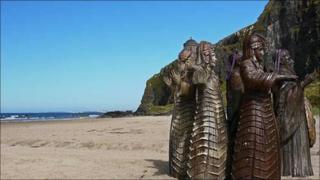 The far-reaching impact of the Game of Thrones TV series, filmed on location in Northern Ireland, just keeps growing.
But whereas much of the filming has taken place in the historic Paint Hall Studio until now, the second series is causing quite a stir on the north coast.
It's all about these fellas. For those who haven't read the books or watched the HBO TV series, these are the "The Seven", statues of the predominant Gods in the world created by author of the original books, George RR Martin.
The statues have been attracting all sorts of attention on Downhill Beach, under the shadow of the Mussenden Temple, in the last week as filming of the second series gets under way.
Castlerock woman Amanda Killen took these pictures and was amazed with their popularity when she put them on picture-sharing website Flickr.
"I had seen the ads for it, but actually never watched the programme," she explained.
"I only saw the statues from a photographers perspective in that they were an interesting subject. My photos started going viral within minutes of me posting them."
"I then started to track where the hits were coming from and it was literally global. The amount of websites dedicated to this program is unbelievable and I have looked at sites in what seems to be every language."
"I am just beginning to understand what an impact this programme is having on people around the world."