Northern Ireland very own slice of silicon valley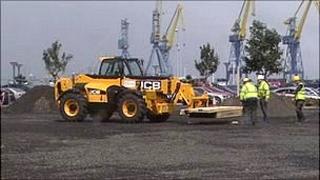 The Northern Ireland Science Park, in Belfast's Titanic Quarter, is adding capacity for another 500 high-tech workers with a £6m investment.
There are few places in Belfast where banks are lending money to develop property. That makes the Northern Ireland Science Park different.
The money is coming from Barclays along with Belfast Harbour Commissioners and some Department of Enterprise help.
There is no shortage of tenants willing to pay top rents to locate there.
The difference - it seems - is in the mix of companies combined with Belfast's two universities on site.
It is what Science Park people refer to as its "ecosystem" - a cluster of like-minded technology companies built around some serious research capabilities.
With 100 companies and 1,500 people now operating there, it is a mix that appears to be working.
Not just any firm can set up shop. Potential tenants are scrutinised by a vetting committee headed by the universities and the Science Park chief executive.
Existing companies include firms like Broadsoft, which specialises in voice-over internet applications, or the software development arm of banking giant Citi. It has regular back-office banking jobs located nearby, but only the software ones are within the Science Park.
That makes all the difference to companies like Kana Software who will be taking up residence in the new Concourse II building when it is completed next year.
Twenty years ago, their vice president David Moody was a co-founder of one of Belfast's only software companies - Lagan - since acquired by Kana.
Then, he says, you were on your own. Now, you have the support and collective wisdom of a range of like-minded individuals and companies to help you grow and survive.
The park provides incubation services to individuals and very small companies too. And it isn't always about success at all costs.
"Sometimes it's about helping them fail quickly too," says chairman Frank Hewitt.
That is a very American attitude - failure as a route to success - and it explains why some genuinely see the Science Park as a small slice of Silicon Valley in Belfast.
When the new building is up this time next year, the park will house around 2,000 workers.
On average, they are earning twice the Northern Ireland median wage.
There is another similar-sized building approved by planning and more ambitious expansion plans to follow.