Cyclist killed in Newtownards Road crash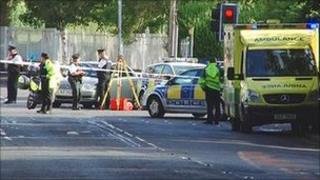 A cyclist has been killed in a collision with a lorry in Belfast.
The accident happened on the Newtownards Road at 07:45 BST on Wednesday.
Police said the woman, who was in her 30s, was taken to hospital with head injuries but later died. They have appealed for witnesses to come forward.
The Newtownards Road has now reopened after being closed between Sandown Road and the North Road for a time.
Conall McDevitt of the SDLP extended his "extreme sympathies" to the friends and family of the woman.
"This is the second tragic death this summer of a cyclist on our roads in Belfast and it highlights the need to make our roads safer for all road users and highlights the need for the executive to give better provision for cyclists," he added.
Meanwhile, a 23-year-old cyclist has died following a hit and run in County Monaghan.
The man was knocked down on the Carrickmacross to Castleblaney Road just after 22:15 BST on Tuesday.