Taser used on kitchen knife wielding teenager in Derry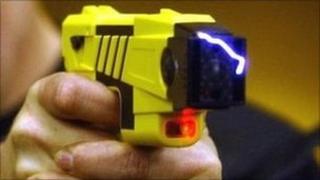 A court has heard how police used a Taser device on an 18-year-old man armed with three kitchen knives in Londonderry on Sunday morning.
Noel Cairns, of Glassagh Park, has admitted possessing offensive weapons.
Police were called when Cairns was seen standing in the middle of the road holding three knives and swinging his arms in an aggressive manner.
It was said he was also trying to stop vehicles. At one stage Cairns sliced himself on the chest with a knife.
The incident happened at the junction of Lonemore Road and Westland Street at about 05:00 BST.
Police officers were deployed to the scene due to the risk to the public and to Cairns himself.
The teenager was asked to stand still, but he started walking towards police still carrying the knives and the Taser was used on him.
Later at interview he said the knives had come from his own house and that he had no intention of hurting anyone else but himself.
Defence solicitor Keith Kyle said it was an unusual case.
District judge Barney McElholm said he would need a pre-sentence report to see what was going on in the case.
Cairns was released on his own bail of £500 on condition he does not take alcohol and observes a curfew from 8pm to 8am.
He will appear again on 9 September.