Northern Ireland economic growth forecast downgraded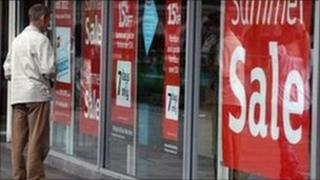 Consultancy firm PwC has downgraded its growth forecast for the Northern Ireland economy for the third time.
The accountancy group has predicted that the economy will grow by just 0.8% this year.
That is a fall from the previous prediction of 1% and the more optimistic 1.3% at the start of the year.
The downbeat assessment has been blamed on the Eurozone crisis, American debt problems and sluggish growth worldwide.
PwC's quarterly Northern Ireland Economic Outlook, published on Tuesday, said that slow growth in the UK and continued problems in the Republic are hampering Northern Ireland's recovery.
The report also suggested that reducing corporation tax may not be the solution to all of Northern Ireland's economic problems.
PwC's chief economist Dr Esmond Birnie said the Eurozone crisis makes economic prospects very unpredictable.
"The Greek crisis and fears for the stability of Portugal, Ireland, Italy and even Spain, have undermined confidence in sovereign debt markets," he said.
"These fears have spread to the world's foreign exchange and share markets and there are now real questions over the continued survival of the Eurozone.
"There have been some encouraging signs of recovery in local manufacturing exports, but these cannot compensate for lacklustre performance in other sectors and the likely impact of forthcoming public spending cuts.
"Collectively, we believe that Northern Ireland will only grow by around 0.8% in 2011, with the prospects for 2012 impossible to forecast with any confidence, at this time."
"Stiff competition"
PwC said that the executive devolving tax-varying powers and reducing corporation tax may not be a simple way of stimulating economic growth.
It has been argued that a reduction in corporation tax from the current 26% to in line with the Republic on 12.5% will help kick-start the economy in Northern Ireland.
But according to Mr Birnie, Northern Ireland could face some stiff competition from a nearby rival considering a similar option.
Scotland is one of the best performing regions in the UK, with above average growth in recent years, while Northern Ireland has barely matched the average figures.
"Scottish private sector productivity is significantly higher and it is this relatively higher level of productivity that drives wealth, wages and investment," said Mr Birnie.
"Scotland has a significant advantage over Northern Ireland and, if the proposed amendments to the Scotland Bill are accepted, Scotland will become a strong competitor to Northern Ireland, even if local corporation tax is reduced to match the Republic's 12.5%.
"In those circumstances, it is perfectly possible that Scotland can attract investment from other UK regions, reinforcing the region's productivity lead still further."