Lagmore shooting: Brothers charged with attempted murder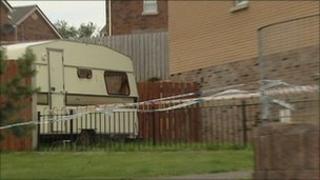 Two brothers have appeared in court charged with attempted murder after a man was shot in the ankle at Lagmore on the outskirts of west Belfast.
Daniel Dundon, 21, from Colin Glen caravan site in west Belfast and Sean Dundon, 20, from Glenside Road, Dunmurry, appeared at Craigavon Magistrates Court on Thursday.
Both were charged with trying to kill John Delaney at Hazel View on Monday.
They were also charged with having a gun and a machete.
Both men were remanded in custody on Thursday.
A 14-year-old boy was charged with attempted murder over the shooting on Wednesday.
Thomas Dundon, 49, with an address in the Hazelbank area, was also charged with the murder attempt.
The two accused were also charged with criminal damage and possession of an offensive weapon.
Six guns and a number of bullets were found on Tuesday by police investigating the shooting.
Two guns were found during searches in the White Rise area of Lagmore on Tuesday afternoon, as well as weapons including machetes and blades.
Four guns, including a machine-gun, were later found in an out-house at Budore Road.