Family welcome that HET says Billy McKavanagh was innocent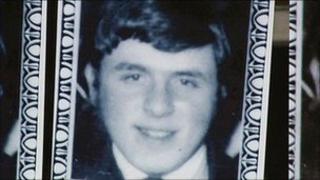 The family of a Catholic shot dead by the Army in Belfast in August 1971 because it was believed he was a gunman have welcomed a report that has cleared his name.
Billy McKavanagh, 21, was shot in the back as he ran away when confronted by soldiers in the Markets area near the city centre, the report said.
A report published by the Historic Enquiries Team said he was innocent.
The family hope they will receive an apology from the government.
Mr McKavanagh's twin sister, Margaret Duffy said her brother was just an "innocent person in the wrong place at the wrong time".
Oliver Morris is a brother-in-law of Mr McKavanagh.
"It was only later that things started filtering through that Billy wasn't involved in anything, and as the report points out today, he was a completely innocent victim," he said.
'Apology'
"Because it's the anniversary it's an ideal time to release the report because 40 years ago there was all this bad press about Billy and now today, it's all going to be good press about him.
"He's been cleared and hopefully now when we get the apology through from the government that will be the icing on the cake."
Billy's sister Margaret said she was sad that their mother had died without knowing her son had been cleared.
"We watched her wither away a wee bit every day because she never never got over the shock of him being killed and carried into her," she said.
The HET, which is a team of detectives investigating conflict murders, began re-examining Mr Kavanagh's murder four years ago.
The soldier responsible for shooting Mr McKavanagh maintained that the person he shot was armed.
The HET, however, said he was not carrying the weapon, a rivet gun which had been looted and left in the street.
The report said it had been picked up by members of Mr McKavanagh's group.
'Innocent man'
"Billy's death was an absolute tragedy that should not have happened," the HET said.
"He was an innocent man who did nothing more than pick up a pair of waders that had been stolen by someone else and then run away when confronted by the Army."
Lost Lives, a book which chronicles every death during the Northern Ireland Troubles, said Mr McKavanagh's body was found in McAuley Street, not far from his home at Henrietta Street.
It added that the army claimed he was a gunman but the IRA said neither he, not his brother or cousin who were arrested after the shooting, were members of the republican movement.
Panicking
It said the Northern Star, a publication by the People's Democracy movement, was critical of British press reports which said the Royal Green Jackets had laid siege to a bakery for several hours and killed a sniper after advancing under a hail of bullets.
Lost Lives continued: "The Northern Star report went on to say that due to 'excellent detective work' by Michael Heney of the Irish Times, it was established that the dead man was shot some 150 yards from Inglis's Bakery 'after panicking after having received into his possession a pair of looted fishing waders, when he was ordered to stop'".
"An Army press officer, asked to comment on the evidence, was reported to have said: 'There was a lot of confusion about that night. In fact, there was no sniper shot in Inglis's factory - that is correct'".