Gay Byrne will not run for Irish presidency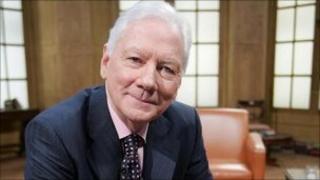 RTE broadcaster Gay Byrne has confirmed he will not run as a candidate in October's presidential elections in the Republic.
Mr Byrne said he had decided, in consultation with his family, that running for the office was not for him.
He added that he does not believe he is what the Irish people are looking for in a president.
The former Late, Late Show host said he had informed opposition leader Micheal Martin of his decision.
Mr Martin had asked Mr Byrne to put his name forward as an independent candidate with the Fianna Fail party's backing.
The 77-year-old said he was incredibly overwhelmed and grateful for all the messages of loyalty, support and regard that he received from people all over the country over the past week, and for the offers of practical help.
He said he would never get around to thanking all the people who had contacted him offering support.
Describing it as a "worthy objective", he sent best wishes to all the other candidates in the race and anyone else who may enter it.
Mr Byrne told RTE there was no particular reason why he had decided not to run.
He said the option of running was foisted on him and he had not known anything about it and what it would involve.
He said he therefore had to take advice from a number of people before making a decision.
Meanwhile, the Fianna Fail issued a statement saying that a sub-committee had been established by Mr Martin to make recommendations in advance of a decision on its presidential strategy in early September.