DUP MLA meets Parole Commissioners over Brendan Lillis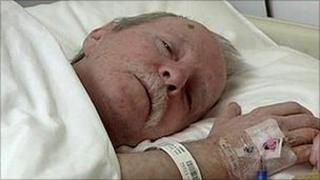 The DUP has said it has concerns about the information provided to the Parole Commission by the Department of Justice ahead of the release of Brendan Lillis.
The chairman of the Assembly's Justice Committee Paul Givan met the Parole Commissioners in Belfast on Monday.
However, they refused to see his party colleague, Health Minister Edwin Poots.
Mr Givan said he now wants to ask the justice minister what information his department provided before the decision to free Lillis.
Lillis was sentenced to life in 1977 on explosives charges, but was freed on licence in 1993. It was revoked in 2009 after he was arrested on robbery charges.
The 57-year-old suffers from the arthritic condition, ankylosing spondylitis.
Unionist politicians criticised the decision, comparing it to the release of the Lockerbie bomber.
Mr Givan said the commissioners denied their decision was taken on compassionate grounds but was instead based upon public interest with regards to the level of risk that was posed to society.
"At the beginning of August the justice minister outlined the only two reasons for a compassionate release, which are terminal illness and the inability to meet medical needs in prison," he said.
"Neither of those two issues relate to Mr Lillis' case, and the Parole Commission made it clear today that the decision to release Brendan Lillis was made on the perceived risk to the public.
"( Justice Minister) David Ford throughout the case has stressed that he relies on the decision of the Parole Commissioners, yet that decision is shaped by representations, including from the Department of Justice.
"The only two sources any representation to the commission can come from are the Department of Justice and prisoner in question."
Lillis was being held in Maghaberry Prison but was transferred to Belfast City Hospital where he is expected to remain for some time.