Judge Mr Justice Hart criticises forensic delays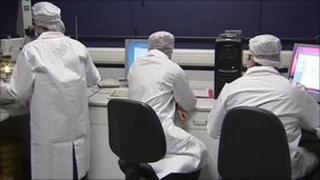 Court cases are being held up at all levels because not enough resources are being put into forensic analysis, a senior judge has said.
Mr Justice Hart warned of further delays unless those in charge of financing the service allocate more.
His assessment came as lawyers told the High Court test results in a drugs case are not due back from the forensic science lab until the end of December.
Counsel for a man facing drugs charges claimed the delay was "inexcusable".
Ryan Morgan, 23, of Rockend Crescent, Ballymoney, County Antrim is accused of possessing cannabis with intent to supply.
'Gross delay'
The judge said: "There is an entirely unacceptable and unjustified and indeed gross delay on the part of the relevant authorities in dealing with the analysis of what is alleged to be in this instance cannabis.
"I'm not in any way seeking to attach blame to individuals concerned, but there is quite clearly a failure on the part of criminal justice authorities responsible to provide sufficient resources to enable this analysis to be carried out with appropriate expedition.
"As a result us judges are told virtually daily in the bail court there are these enormous delays and they are holding up cases at all levels, both in the Magistrates' Court and the Crown Court."
Mr Justice Hart acknowledged public concern at the length of time taken to deal with criminal cases.
But he added: "What is not appreciated by the public, and certainly does not appear to be appreciated by public representatives or those responsible for allocating money for this type of service, is that unless the facilities are available and properly resourced and properly organised the courts cannot deal with cases as rapidly as the courts would wish to do and indeed are able to do.
"As soon as this receives appropriate attention from the relevant authorities the better."
The Department of Justice is responsible for the forensic science service, which employs around 200 staff in Northern Ireland.
In a statement, a spokesman said the department, police and forensic science service are working together closely to ensure that forensic services are appropriately resourced to meet the needs of the criminal justice system at a time of unprecedented demand.
Fair bail bid
Mr Morgan is on bail but was seeking permission to return to his home town of Ballycastle for the Auld Lammas Fair festival later this month.
Refusing the variation application, Mr Justice Hart said: "I would be closing my eyes to reality if I did not realise there would be a huge concourse of people attending that event.
"It would be impossible for police to keep an eye on every single person who may be considered a risk of committing further offences."