Health review panel for Northern Ireland revealed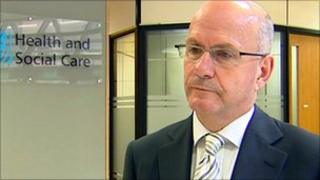 The chief executive of health charity the Kings Fund is to be part of the team to carry out a review of NI's health service, the BBC has learned.
Professor Chris Ham is one of five people appointed by the health minister Poots who will advise and challenge how services should be developed.
Edwin Poots announced in June that experts would look into how health and social care could be changed.
This could lead to fewer hospitals, but greater choice in community care.
It is understood that he will use the panel's recommendations to decide how hospital's Accident and Emergency departments, GP services and other health care sectors could interconnect.
It is not the first time there has been a review into health care in Northern Ireland and it probably will not be the last.
But what's different about this one is that the man leading it is John Compton - not an outsider - but the chief executive of the local Health and Social Care Board.
In his first interview after being appointed health minister in May, Mr Poots told the BBC that he was not adverse to making big changes and that he was the man for the job.
When being filmed for the Hearts and Minds programme, he was seen reading the infamous McKinsey report.
A hard-hitting consultancy document, commissioned by the Health and Social Care Board, which suggests cutting, charging and consolidating services.
'More efficient'
The panel is impressive.
Professor Ham, CBE, has been professor of health policy and management at the University of Birmingham since 1992.
He is known to use research evidence to inform policy and management decisions in areas such as health care reform, chronic and primary care performance improvement and leadership.
In the past 12 months his colleague at the King's Fund, Chief Economist John Appleby, carried out a rapid review of services here which cost around £45,500.
That report recommended that services and especially staff could be more efficient.
Also bringing his experience from England will be Dr Ian Rutter.
A GP for over 20 years, his experience includes being chief executive of North Bradford Primary Care Trust.
He was also a former clinical advisor in the policy and strategy directorate of the Department of Health.
Local expertise includes Professor Deirdre Heenan, Provost and Dean of Academic development at the University of Ulster's Magee campus.
The only woman on the review panel, Ms Heenan has made it no secret that she believes the local health service needs revamping.
In previous interviews, she has told the BBC that she believes there are too many hospitals in Northern Ireland and there is no equality for people who live in rural areas.
When contacted by the BBC over her latest appointment she said: "This isn't rocket science. Basically we need to decide what type of health service we want and then decide how to deliver it.
"It will be difficult but not impossible. It's not a cost cutting exercise, we will be looking at how hospitals and health and social care services can better connect with each other and therefore provide a better service for the public. "
There may be some criticism that the man leading the review, John Compton, is in effect reviewing himself.
But in the past, others criticised the likes of the Appleby report and the McKinsey review which involved professionals coming from England to advise local people how they should be organising local services
The review panel is to consult with local health groups including the health unions.
They have been asked to report their findings to the health minister by 30 November.