Frank Bunting, INTO teachers' trade union leader dies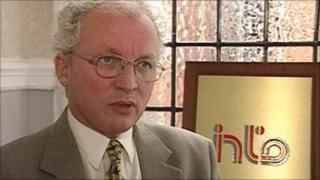 The former head of one of the biggest teaching unions in Northern Ireland, Frank Bunting, has died.
He was sixty one and had been ill for some time. He retired from his post in the Irish National Teachers' Organsiation (INTO) at the end of May.
Mr Bunting was a secondary school teacher in west Belfast before taking jobs in the trade union movement.
He worked for 15 years with the Irish Congress of Trade Unions and spent 20 years with the INTO.
During his time representing teachers he was a fiery defender of the rights of school staff.
The INTO represents staff mostly in maintained Catholic schools but Mr Bunting was instrumental in negotiating closer links with the Ulster Teachers' Union whose members are mostly in the mainly Protestant controlled schools.
He retired in May this year on health grounds and tributes were paid to him by the education minister John O'Dowd, who said his commitment and professionalism would be greatly missed in the education sector.
The leadership of the INTO said he was a powerful advocate for teachers and his work was widely recognised and admired.
He was a frequent campaigner for teachers' rights.
He died early on Saturday morning. He had been suffering from cancer.