Lagmore gun attack accused gets bail to go to school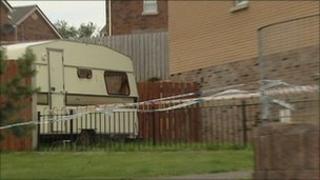 A 14-year-old boy accused of trying to shoot a man dead has been granted bail so he can start the new school year.
High Court judge Mr Justice McCloskey said the GCSE student's education would be seriously disrupted if he was kept in custody.
The teenager is charged with attempting to murder the man in an attack at a caravan in west Belfast.
He is also accused of possession of a firearm, criminal damage, and possession of an offensive weapon.
The charges relate to a shooting incident in the Lagmore area on 8 August which has been linked to a feud within the Traveller community.
Four people are alleged to have gone to John Delaney's home and attacked it with machetes before two shots were fired inside.
One is believed to have been aimed at head height, with that bullet recovered from a wardrobe door.
Although three men have also been charged with attempted murder, the prosecution claim a fourth attacker armed with a gun and wearing a balaclava was the 14-year-old.
He denies the allegations, with his lawyers pointing to significant differences between his appearance and that of the gunman.
During a second application for bail, it was disclosed that another man has been arrested on suspicion of attempting to intimidate witnesses in the case.
Crown counsel Kate McKay said: "This man has allegedly taken it upon himself to gather a petition which is effectively to prevent the prosecution of this applicant and has got people to sign it.
"He has made threats in relation to that."
'Enthusiastic student'
Neil Rafferty, defending, stressed that this man was unconnected to his client, but seemed to have dissident republican links.
The barrister also contended that the teenage suspect's education would be prejudiced by continued detention because he is about to start his GCSE studies.
Granting bail, Mr Justice McCloskey noted that the accused is regarded as an enthusiastic student with an impressive attendance record.
"In short, he is a 14-year-old who has reached a level of education, who is a serious student, and whose education would be very seriously disrupted if he were to remain in custody," the judge said.
As part of his release conditions, the accused must be driven to and from school and is banned from leaving it during class time.
He was also excluded from the Dunmurry area and prohibited from contacting any witnesses or co-accused in the case.
Mr Justice McCloskey also stated: "Whatever happened in this incident, if the applicant was involved... to involve a 14-year-old in an exploit of this kind is simply shameful."