Arkinson family's 17 years of torment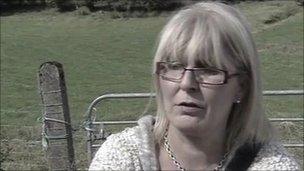 For 17 years Kathleen Arkinson has been tormented by the disappearance of her 15-year-old sister Arlene.
The County Tyrone teenager has been missing, presumed murdered, since a night out in Bundoran, County Donegal, in August 1994.
New searches are now under way between Castlederg and Ederney, County Fermanagh.
Kathleen said her sister's disappearance had had an awful impact on her and her family.
"You don't want to go outside the house - you want to hide in the house," she said.
"Your sleep patterns off, everything's off, your whole life's off - you're walking around like a zombie.
"You don't know whether you're coming or going. You try to put a smile on for everybody, but when you go into the house, you close the door and the smile leaves you.
"Seventeen years we've lived with this and it's horrible - I just hope no other family has to go through this."
Kathleen said she hoped and prayed Arlene would finally be found in the new searches.
"Arlene is lying out there and it's not fair and all we want to do is bring her home and bury her and put her along with her mother and father and our other sister Mary who passed away in 2002," she said.
"The whole family's here and I just hope the outcome's good.
"It's been very difficult. If Arlene is not found in this search I don't know where we're going to go to."
Kathleen and Arlene's sister Paula said she wouldn't wish what the family had been through on anyone.
"We need to get her home so we can get some sort of closure," she said.
"It would have been my late father's birthday today and this is the first search that we've been out on since he passed on.
"He would have loved to have seen this."
She said the family's would never give up the search.
"We can't move on, we're not giving up, we have to get her," she said.