Basking shark swims out of Portrush Harbour after several hours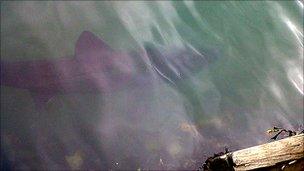 A basking shark drew a crowd of spectators to Portrush Harbour for several hours on Wednesday.
It swam into the harbour in the early afternoon before swimming out at about 17:00 BST.
Local bar manager Willie Gregg estimated it to be about 14ft long.
The unusual visitor caused large crowds to gather and a number of people got into the water to swim.
Simon Clarke works in Woodie's surf shop in the town.
"The basking shark swam up and down the harbour wall and underneath the lifeboat," he said.
"It was in and around the 14 or 15ft mark. Someone said there were reports of two of them, but I only saw one myself.
"There were a few guys in the water with goggles and snorkels who were swimming with it and a few of them actually got a touch of the fins."
He said the aquatic visitor had caused quite a stir.
"I think everyone was amazed," he said.
"It is quite rare for us to see sharks around here. There is a large surfing community around these parts so the whole shark end of things we never really have to deal with.
"Seeing the odd basking shark is quite nice. They don't pose a threat either, so that is one of the bonuses."
"I was actually in the water about a year and a half ago, with a couple of the guys that I work with, we were surfing and there were basking sharks swimming about the west Strand and then they swam in and out of the harbour.
"There were two of them that time. An adult and a child."
Mr Clarke said the shark had looked a "wee bit distressed".
"Some of the swimmers were saying they thought it couldn't find its way out of the harbour," he said.
"As it swam in looking for food it has probably swam too deep into the harbour.
"It didn't look as if it knew where it was going. It was swimming repetitively up and down the same stretch of wall towards the end of the harbour.
"A few boats were coming in at the time so maybe the noise of the boats put it off from leaving."
He said despite its apparent distress, he had been confident that it would return safely to the open sea.
"It's a big enough opening down at the harbour and they have swam in there before, so I'm sure it will find its way out."