Changes made to Belfast city centre bus routes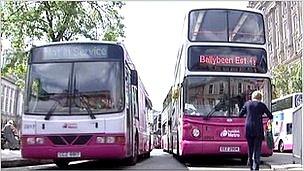 Alterations to Metro bus routes and the relocation of bus stops in Belfast city centre have been put into operation on Thursday.
The move is part of a Department for Regional Development initiative aimed at giving greater priority to public transport, cyclists and pedestrians.
A Metro spokesperson said the changes would see fewer buses on some routes and the combining of some services.
He said, however, that some new routes would also be introduced.
Full details of the route changes can found in the Translink Metro timetable.
Metro Services said information teams would be on hand in the city centre to help passengers with the changes.
Spokesperson Billy Gilpin said new timetables were being posted to Belfast households.
"I would encourage passengers to check their service details before travelling so they can take this into consideration when planning their journey," he said.
Scott Kennerley of the Consumer Council said: "Whilst we accept that the changes to some Metro bus stops in Belfast will be required as a result of the work, and we welcome the enhancement of some services, we would be concerned if the re-organisation of traffic routes in Belfast city centre has led to a separate decision to reduce frequency of service on a small number of routes.
"We have raised our concerns with Translink and we would also encourage passengers to raise any issues they might have with Translink."
The changes were made as part of the Department for Regional Development's Belfast on the Move Transport master plan and the Streets Ahead Enabling Measures which aim to give higher priority to public transport, pedestrians and cyclists in Belfast city centre.
Additional information on bus route changes and the relocation of city centre bus stops can obtained on the Translink website www.translink.co.uk or by calling the contact centre on 028 9066 6630.
Related Internet Links
The BBC is not responsible for the content of external sites.