Strict new moves to tackle NI benefit cheats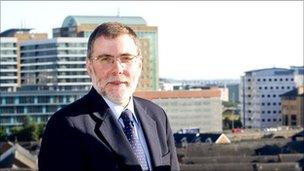 A strict "one strike and you're out" policy on benefit fraudsters is being introduced later.
The new penalty will cut a claimant's benefit, or stop it entirely, for four weeks following a first fraud offence.
It could affect up to 1,000 people a year. Under the present system, 13 claimants had benefits stopped in 2010.
The one-strike penalty is in addition to a fraud conviction, administrative penalty or formal caution, and the recovery of money fraudulently claimed.
Social Security Minister Nelson McCausland said: "Those who deliberately commit benefit fraud are dipping their fingers into the pockets of Northern Ireland's taxpayers.
"We don't want to catch people committing benefit fraud.
"We want to stop them committing benefit fraud in the first place. This new measure will help us do that."
Kevin Higgins of Advice NI said it did not condone benefit fraud, but that the current system for claiming benefits was "difficult to navigate" and it was concerned some genuine claimants could be penalised.
"The majority of people who use advice centres do so because they find the system too complex, the form-filling too complex and they often find the letters they receive from the Social Security Agency are not the most clear and they have to bring them to advice centres for an explanation," he added.
Mr McCausland said the new policy was not directed at the "person who makes the honest mistake".