Whitehouse Primary School back after arson disaster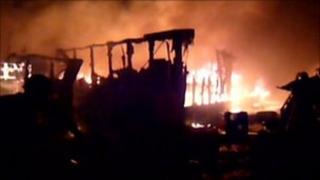 Children returning to school after the summer break are generally excited to see their friends again, but for more than 400 County Antrim primary school children, it was an extra special occasion.
Two years ago Whitehouse Primary School was destroyed in an arson attack, which left staff, parents and pupils devastated.
They had to move into a wing of the nearby secondary school, which was built for older pupils.
Eventually, after a campaign by parents and teachers, the Department of Education released money for a new building.
Louise Weir has taught at the school for 17 years.
"This is amazing for us and the children today to be able to have this huge building, their own playgrounds, their own spaces and everything catered for their own needs," she said.
The new school cost almost £4m. It is built on the same site but now has more outside space and better facilities.
Parents and pupils also praised the new facility.
Parent Priscilla Udoh said: "It was really, really hard but this is what we've been dreaming of.
"This is a school, this is beautiful."
P7 pupil Ethan Dawson added: "It's good because a few years ago we didn't know if we were going to have a school to go into.
"When I came in here it just seemed so big compared to the other school."