Breeze block thrown through bus window 'could have killed'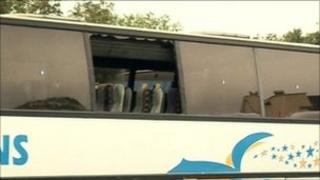 The driver of a coach which was attacked in Londonderry at the weekend has said someone could have been killed.
A breeze block was thrown through the window.
Several passengers were injured with flying glass.
The coach was travelling on the Madams Bank Road in Londonderry at about 02:15 BST on Friday.
"I knew that I had a pregnant woman, a heavily pregnant woman, on the bus and my first thoughts were that she had to get away from the situation," he said.
"When I got away from the situation, I couldn't stop for fear of them coming through the hedges and throwing at the bus again."
Don Reddin, owner of the coach company targeted said a wedding party was on board and "the guests on the bus were petrified".
"The side window of the coach, which is a double glazed unit, was broken," he said.
"I would love to say it was a stone-throwing attack, but it wasn't - it was almost like a hijacking, it was that bad.
"It's just sickening to think that they knew there were people on board that coach and they knew they were going to injure them and they carried on with it."
Joe McCallion was on the bus when it happened.
He said: "People on the bus were scared, especially the two girls - there was one heavily pregnant and another girl sitting beside her showered in glass."