Disabled girl not allowed on Dundonald Ice Bowl rink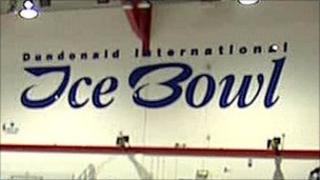 A review of health and safety rules at Dundonald Ice Bowl is planned, after a disabled Newtownabbey child was told she was not allowed on the rink.
Dakota Clarke was left in tears last Friday night on learning her family could not take her onto an Ice Bowl disco in a skating sleigh.
Her mother phoned BBC Radio Ulster's Nolan Show to highlight the case.
She explained that her daughter had a brain disorder, with many disabilities including visual impairment.
"I felt very embarrassed. We have a child who's screaming, crying because she can't get on the ice," Wilma Clarke said.
"And then the hurt kicks in, because you think - why my daughter, why is she any different?"
After the family protested to Ice Bowl staff, Dakota was eventually allowed onto the ice for a 10-minute spell.
Castlereagh Council, which runs the Ice Bowl, has said it regretted any distress caused.
Heather Moore, director of leisure services, stressed that no skating aids are permitted on the ice during busy peak sessions.
She said this restriction has been imposed on health and safety grounds to safeguard all customers.
The council official added: "There are times when the ice pad can be divided up to accommodate mixed use.
"A Friday night or a Saturday night hasn't proven to be one of those times when we need to do that.
"However, what I am saying is if the need has to be reviewed, of course we would welcome the opportunity to do that."