Kennedy Investments confirms Nama talks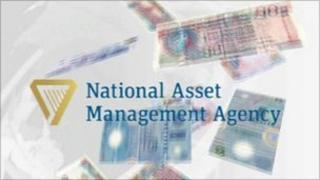 Part of a County Londonderry property group has confirmed it has been in discussions with Nama about the renewal of its bank loans.
The details are contained in the annual accounts of the Coleraine-based Kennedy Investments.
It is part of the Kennedy Group which owns or holds shares in some development and investment companies.
The National Asset Management Agency (Nama), was set up by the Irish government due to the financial crisis.
Its job is to buy and manage property loans which were made by Dublin-based banks.
The agency is sometimes referred to as a "bad bank" but it takes over "good" loans, which are being repaid, as well as bad loans.
Kennedy Investments has loans of more than £10m with Bank of Ireland.
A note in the accounts states: "The company has been in discussion with its bankers, as agents of Nama regarding renewal of its facilities."
The note adds the directors have a reasonable expectation that the loan facilities will be extended.
The accounts also refer to "the ongoing economic crisis" and its particular impact on the property sector.
The firm has written down the value of its property, land and stocks from £9m in 2009 to £1.5m in 2010. Its liabilities now outweigh its assets by almost £13m.
In previous years Kennedy Group Holdings has produced a consolidated financial statement which lays out the performance of the group as a whole.
This year Kennedy Group Holdings has published limited information in the form of an abbreviated unaudited statement which makes it difficult to compare the 2010 performance with previous years.
In October 2010 four of the Kennedy Group companies were placed into administration; J Kennedy and Co Contractors - the construction arm of the group - and three related firms, Kennedy Crane Hire, Kennedy Concrete Products and J Kennedy and Company (Manufacturing).
Earlier this year a list of properties which have been repossessed by Nama included an industrial site on Letterloan Road in Coleraine - this is believed to be the former premises of Kennedy Concrete Products.