Northern Ireland receives most public money per head in UK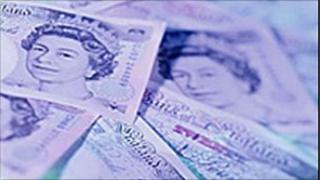 Northern Ireland receives more public money and generates less tax revenue per head than any other part of the UK.
The region was £9bn in the red, amounting to £5,052 per person, for the year 2008/09, according to figures just released by the Northern Ireland Executive.
That's almost three times the UK average of £1,785.
Even Scotland, which is often cited as a big beneficiary of public funds, fares much better than Northern Ireland.
There, the comparable figure is £2,000 less per person than in Northern Ireland.
Ulster Bank economist Richard Ramsey said the figures illustrated Northern Ireland's public sector dominance and the weakness of its private sector - a double whammy that means the region spends large amounts of public money and raises little in terms of tax revenue.
This gives it the UK's highest fiscal deficit.
He said that Northern Ireland was likely to have slipped further into the red in the last year as more recent figures from Scotland show its deficit growing.
"Applying the same uplift you are looking at £6,315 fiscal deficit per head for Northern Ireland," he said.
Like Scotland, Northern Ireland benefits from the Barnett Formula which calculates the amount of public spending in the regions.
But other factors beyond Barnett seem to be driving Northern Ireland's high deficit.
Disability payments
Although the region's unemployment rate is just below the UK average at 7.3%, it has a much higher percentage of people claiming sickness benefits.
While there are just over 60,000 people claiming Job Seekers Allowance, there are more than 180,000 people on Disability Living Allowance - that's one in ten of the population.
Figures for 2011 reveal more than 50,000 on Incapacity Benefit and around 260,000 people receiving a mixture of these disability related benefit payments.
And information released from the Office of National Statistics this week identifies "sick or disabled" as the main reason for worklessness in Northern Ireland.
These high levels of economic inactivity push the deficit up by increasing the public spend while reducing the potential for revenue growth.
In all major revenue streams, Northern Ireland contributes less than its population size might imply. The exceptions are fuel and tobacco duty suggesting an above average liking for cigarettes and cars.
Prisoners' cost
Northern Ireland's legacy of civil unrest may also be a factor with higher spending on security and the justice system.
It costs £95,000 a year to keep a prisoner in Northern Ireland - twice the UK average.
Until recently, some barristers could earn up to £1m in a year from publicly-funded legal cases.
With justice powers now devolved there is a local focus on driving those costs down and the Justice Minister has recently slashed legal aid fees for lawyers to bring them into line with England and Wales.
This prompted a four month strike by solicitors and barristers which they abandoned at the end of August.
There is less incentive for Stormont ministers to tackle the benefits bill as this money comes directly from Westminster based on demand.
However, Stormont is working with the Department for Work and Pensions in its efforts to move some people off sickness benefits.