UVF murders recalled by family for Belfast art exhibition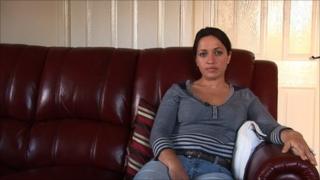 The family of two brothers shot dead by the Ulster Volunteer Force during one of the bloodiest weeks of the Troubles have told their story for a digital art exhibition at a Belfast gallery.
Gerard Cairns, 22, and his brother Rory, 18, were killed in the family home at Bleary, near Lurgan, County Armagh in October 1993, in the same week as the Shankill Bombing and the Greysteel Massacre.
Fourteen years later, the then Police Ombudsman, Nuala O'Loan found no evidence of collusion in the Bleary murders, but did say the RUC inquiry had been "unacceptably flawed" and upheld a complaint that police had failed to conduct a thorough investigation.
Now the Cairns family have given their account and their emotional response to the tragedy, from the sitting room where the killings happened, for a video triptych which forms part of the Others' Stories exhibition at The Golden Thread gallery.
The piece, entitled '18th October 1993, 8pm', was produced by Northern Ireland artist Lisa Byrne, who was a neighbour of the Cairns family and went to school with Gerard and Rory.
She said she wanted to honour the two brothers through her work.
"I have been thinking about Gerard and Rory since they were murdered," she said.
"However, the feeling to respond as an artist kept getting stronger and I finally approached the Cairns family in March 2010, I filmed last August and began an editing process since then.
"The story is a very emotional one and it did affect me dramatically, I needed time to digest this traumatic story intimately engaging with each family member and was only able to edit more intensively in the last few months."
She said the Cairns family had responded positively to the production, which follows the themes of home, healing and justice.
"The final video revealed a collective but individual and personal response," she added.
"They felt closer hearing each other's intimate story, in the final edit of the work.
"I was really hoping that this approach, would have this effect and that in some way it would be my gift to them all, as their neighbour acknowledging their trauma."
New York
Last year, Ms Byrne was among 25 winners from over 23,000 entrants who were selected to have their work exhibited at the Guggenheim Museum in New York as the result of an international film competition YouTube Play.
Her work, Stand Up And Cry Like A Man, showcased here on YouTube, recalled the experiences of taxi drivers who were targeted in paramiltary attacks during the Troubles in Northern Ireland.
The artist had funded her work by being a taxi driver herself and said she thought it was important to show the human impact of "the trauma of the Troubles" to a wider audience.
"I worked on and off for ten years," she said.
"I stopped because I had a close call with a paramilitary and thought that was enough.
"However, it was because of this experience that I decided to invite taxi drivers into my car to tell their story.
"I wanted to ferry them through their story into their past and how they feel today, in the safety of my car.
"The car can be a therapy room but it can also be an isolating place of imminent threat."
The Others' Stories exhibition is at The Golden Thread Gallery in Belfast until 1 October.