Constable Ronan Kerr house search challenge dismissed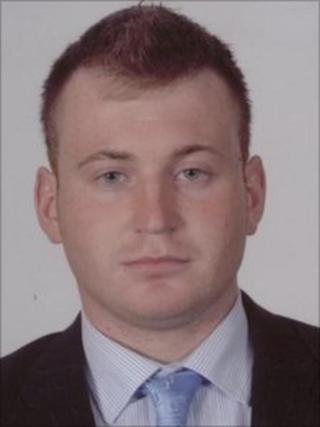 A police search at the family home of a man arrested in connection with the murder of Constable Ronan Kerr was lawful, a High Court judge has ruled.
Mr Justice Treacy dismissed a judicial review challenge brought by the wife of Sean McKiernan over being denied access to their house in Omagh, Co Tyrone.
Constable Kerr, 25, died when a bomb exploded under his car in Omagh in April.
Mr McKiernan was questioned over the murder but released without charge.
His wife Sarah was seeking a declaration that the PSNI acted unlawfully during searches which began a day after the killing.
Although the mother of three was subsequently allowed back into the property at Shergrim Glen, she alleged her rights to privacy and family life under the European Convention on Human Rights were violated.
Her lawyers argued that police acted outside the authority of a warrant granted to search the home for any forensic trace evidence.
It was alleged that officers carried out the necessary tests but continued to occupy the premises and did not allow Mrs McKiernan and her children to return for a number of days.
A senior detective gave evidence that the forensic examination of Shergrim Glen had to be completely reassessed after an arms find in Coalisland.
The judicial review challenge centred on whether the search which was authorised had ended.
If it had, another warrant would be required to go back into the house.
Delivering judgment, Mr Justice Treacy pointed out that Mrs McKiernan had not been told the search had ended, and that the warrant allowed forensic specialists to enter and re-enter the premises.
He that if Mrs McKiernan's case was right the police would have had to remove the cordon and let her take her family back into the house while a new warrant was sought.
"This would jeopardise the scene and evidential integrity, potentially prejudicing a major murder investigation and frustrating or subverting the very purpose (for which) a forensic trace warrant had been granted," he said.
Mr Justice Treacy added that completion of a particular forensic examination is not to be equated with the end of a search for forensic trace evidence.
"I'm quite satisfied that the forensic trace warrant justified the search complained of. No further warrant was required in the circumstances," he said.
"Accordingly the search was lawful and the judicial review must be dismissed."