Shopkeeper and baker foil Finaghy armed robbery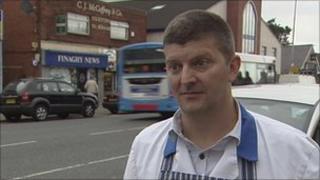 A Belfast shopkeeper has described how he fought off two armed robbers with the help of a fellow trader.
Peter Mitchell was working at his newsagents in Finaghy at 07:30 BST on Friday when two men, brandishing a knife and a crow bar, entered the shop and demanded he empty the till.
Mr Mitchell refused to co-operate and with the help of a baker, who worked nearby, he confronted the thieves.
The robbers then knocked down the shop owners as they made their getaway.
Police said it was one of three attempted robberies in the area on Friday.
"Two fellas came in, one with a crow bar and the other with a knife," said Mr Mitchell, who runs Finaghy News on the Upper Lisburn Road.
"The fella with the knife came around the counter and told me to open the till and give him the money.
"I said 'I'll get it for you now' and I stepped back. He said 'if you don't open the till I'll cut you'. I went to open the till and instead I pressed the panic alarm to alert the police.
"I stepped back and told him he was getting nothing. I was angry, I don't know if I was frightened or not.
"The adrenaline kicked in. I work too hard for my money and they're not getting it for free."
Run down
A friend who runs a bakery nearby spotted the commotion and came to Mr Mitchell's aid.
"Brian (the baker) came across and threw the lottery sign from outside at the fella with the crow bar," he said.
"At this stage the two fellas decided to make a run for it. There was a car waiting for them. The guy in the car tried to reverse over Brian and hit him with the car.
"Then he drove at me and knocked me over."
Police have appealed for help in finding the men responsible for the attempted robbery.
It is linked to two other incidents in the south and west of the city. Police said a Subaru type car was involved in each case.
Just before 07:30 BST it was reported that three men entered a premises in Ladybrook Park, threatened a customer and attempted to steal his wallet.
The victim received a cut to his hand in the attack. His injuries are not believed to be life threatening.
Ten minutes later three masked men, one armed with a knife threatened staff at a business on the Stewartstown Road, before making off with a sum of cash and cigarettes.