James Kearney and Stephen Parker sentenced over blackmail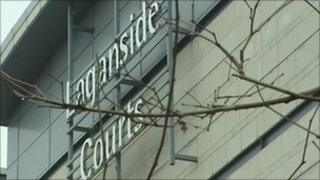 Two men who admitted involvement in a £50,000 extortion plot have walked free from court after their two-year jail terms were suspended for three years.
Belfast Crown Court Judge Patrick Lynch told James Kearney, 29, and Stephen Paul Parker, 33, he was doing so with "considerable hesitation".
They were part of a gang who blackmailed a County Antrim businessman known only as witness A in May 2007.
They threatened to release a video of a "personal nature" to the press.
Belfast men Kearney, from New Barnsley Parade and Parker, from Westrock Gardens, both pleaded guilty to assisting offenders.
Three other men who pleaded guilty to blackmailing the victim will be sentenced next Tuesday.
Judge Lynch told the trio, 47-year-old Paul Braniff from Windmill View in Ballynahinch, Eugene McKee, 54, from Woodside Drive in Dunmurry and Michael Kearney, 35, of no fixed address but who is a brother to James Kearney, they faced an "inevitable" jail sentence.
When their trial initially started last May, the court heard how a BMW car and the video recording belonging to witness A was stolen back in 2001 and that within weeks, he was being blackmailed for £5,000.
Things went quiet until May 2007, when McKee went to his house and demanded a "one-off" payment of £50,000 or the video "would be in the Sunday papers".
When the police became involved, they gave witness A a mobile phone and recorded numerous threatening calls made to it.
The man who made the calls was McKee and eventually a meeting was set up for 29 May in the carpark of a Shankill Road fast-food outlet where money was to be handed over.
Bag containing £15,000
In covertly recorded surveillance footage played to the court and jury, Michael Kearney and Braniff were driving around the area in a jeep while James Kearney and Parker approached witness A in his car and demand the cash.
Police swooped as a bag containing £15,000 was put into the back of Parker's people carrier and within minutes Braniff, Parker and James Kearney were all arrested.
Michael Kearney ran off and was not arrested until July.
A short time afterwards, police raided McKee's house where they uncovered mobile phones used to make the blackmailing phonecalls
Prosecuting QC Ciaran Murphy said the pleas of James Kearney and Parker to the lesser offences were accepted on the basis that each "knew or suspected involvement in general criminality" but were not actively involved in the blackmail plot itself.
In sentencing the pair, Judge Lynch said he was taking account of the fact that each man had already spend almost eight months in custody before bail was granted and that they had offered to plead at an early stage.
The judge said while he accepted their lesser roles as "gophers... they must have had a pretty good idea of what was going on".