Judge backs sentencing of man who killed father-of-six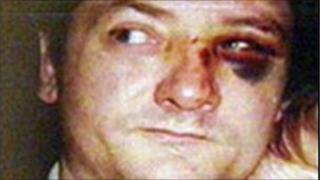 A man who stabbed to death a father-of-six in front of his partner and children in west Belfast deserved his 11-year prison sentence, Northern Ireland's most senior judge has ruled.
Lord Chief Justice Sir Declan Morgan said that Francisco Notarantonio showed "indifference" to his victim.
He killed Gerard Devlin in a street fight in Ballymurphy in February 2006.
Notorantonio was jailed for 11 years and ordered to serve another year on probation.
Sir Declan held that there were enough aggravating factors in the case to warrant a sentence at the top end of the range for such a killing.
Mr Devlin, 39, was stabbed with a 13in chef's knife in front of his partner and children outside their Ballymurphy home in February 2006.
Notarantonio, 24, formerly of Whitecliff Parade, Belfast, was also convicted of stabbing a member of Mr Devlin's family in the chest and attempting to cause malicious wounding to another relative.
His lawyers challenged the severity of the sentence, claiming it was manifestly excessive because the trial judge failed to properly take into account his remorse, lack of intention to kill or cause serious injury, and his youth at the time of the fatal knifing.
The Court of Appeal dismissed the application previously, but only gave reasons on Monday for doing so.
Sir Declan, sitting with Lord Justice Higgins, said there had been "a deep and enduring animosity" between the two families since 2002.
He pointed out that the sentencing range for the offence of manslaughter after a not guilty plea was between eight and fifteen years imprisonment.
"In this case the additional significant aggravating factors were that this occurred as part of a feud, that it involved the use of open violence in the public street on a Sunday afternoon when members of the public, including children, might be expected to be on the street, and that it was one of a number of such incidents associated with this feud," the Lord Chief Justice said.