Police reopen Simon Tang murder investigation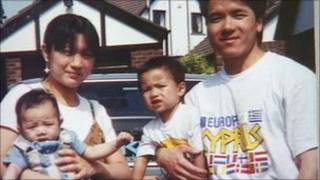 Police have confirmed they have reopened the investigation into the murder of a Chinese businessman in Carrickfergus 15 years ago.
Father-of-two Simon Tang, 28, was beaten and robbed as he left his Chinese restaurant in June 1996.
Two youths are believed to have carried out the attack.
Detective Chief Inspector Gary Crawford said police would be following a number of new lines of inquiry in the weeks ahead.
Brutal and senseless
"This was a brutal, senseless and vicious attack on a decent man going about his lawful business," he said.
"It robbed Simon Tang of his life and it deprived his family of the love and support they deserved.
"We are appealing for assistance from the local community who we still believe can help us, despite the amount of time which has elapsed.
"Allegiances, loyalties and relationships can change over time. It is never too late to do the right thing."
Mr Tang was an Oxford University graduate, but instead of pursuing a career in architecture he took over the family business when his mother retired.
His killers took a watch and less than £400.
Mr Tang's brother-in-law Dean Lee said that his family were hopeful that there could be a breakthrough.
"There was a lot of frustration at the lack of success in the investigation in the early days.
"It was very quickly overshadowed by the Manchester bombing in that year and the second Drumcree riots."
New lines of inquiry
Mr Lee added that the family did not necessarily feel that a police pledge to "leave no stone unturned" had been fulfilled and that they had been consistently in contact with police about the investigation.
"There are new lines of inquiry. There are advances in forensic technology" he said.
"But we also know, by the way that Northern Ireland is, people know people and that there will be people who will be aware that a father, a brother, a son may have been involved in this and we are appealing to them to come forward."
Police have appealed for anyone who saw any activity around the Good Future takeaway on the Woodburn Road between midnight and 01:00 BST on 24 June 1996, or who saw two youths running from the premises at about 00.30 BST.
They have also appealed for a woman who rang the Mater Hospital in Belfast enquiring about "the condition of a Chinese man beat up in Carrick" after the attack.
Anyone with information on Mr Tang's murder can contact detectives on 02890 700727.