Maire Rankin murder: Accused 'asked if victim was beaten'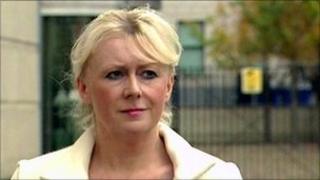 A woman accused of murdering a Newry pensioner asked a police officer if the victim had been beaten the morning her body was found, her trial has heard.
Karen Walsh, 45, is accused of beating Maire Rankin to death in the early hours of Christmas Day 2008.
Mrs Rankin, 81, was found at her Dublin Road home by a relative.
Ms Walsh admits being in the house but claims she went earlier in the evening to bring Mrs Rankin a present and when she left her neighbour was alive.
A detective sergeant told the trial that she spoke to Karen Walsh on Christmas morning when she discovered she had been with the victim the previous evening.
She said Mrs Walsh has asked whether Maire Rankin had been beaten and whether the door of her house had been open.
The detective said Ms Walsh had asked her these questions several times.
Another police officer told the court that when she was arrested on 27 December 2008, the accused had replied: "I can't believe this. It's bizarre."
A neighbour of the accused and the victim, Oliver Madden, also gave evidence on Wednesday.
He said that when he woke up on Christmas morning, there was a lot of police activity outside Mrs Rankin's home.
He said he went outside and spoke to her son Diarmuid who told him of the family's suspicions that Mrs Rankin had been murdered.
Mr Madden also gave evidence of a phone call he had received from the accused in the afternoon of the same day, in which she asked him: "Who was the last person to see your woman alive?"
In the afternoon, a forensic scientist gave evidence relating to items recovered from the murder scene.
Among them was a litre bottle of vodka that was almost empty - it had just five millimetres of vodka left in it.
It was tested for DNA, the trial heard. It produced a mixed profile, but the major contributor to it was Karen Walsh, the accused.
The court has already heard that Ms Walsh had visited the murder victim Maire Rankin to give her a present of a bottle of vodka.
The case continues.